With the incorporation of the International Flipper Pinball Association, Australian pinball aficionados have not shied away from stepping into the spotlight.  The association, from their website, aims to "elevate the awareness and visibility of pinball across the globe and generate media coverage and corporate backing to bring the sport of competitive pinball back into the spotlight."
Some seasoned players and industry mainstays may remember the association back from the 90's.
What's so exciting about this is that the IFPA has launched the IFPA Australian Championship Series.  This series will rank 20 of the best Australian players where they will qualify for the Final to be held January of February 2016.
To liven up the pinball industry and for the promotion and love for the game, like-minded individuals have formed their own groups and are actively participating in the many events in and around pinball.
Below we list some of these groups and associations based in Australia directly or indirectly connected with the IFPA all founded and grounded by the common love for pinball.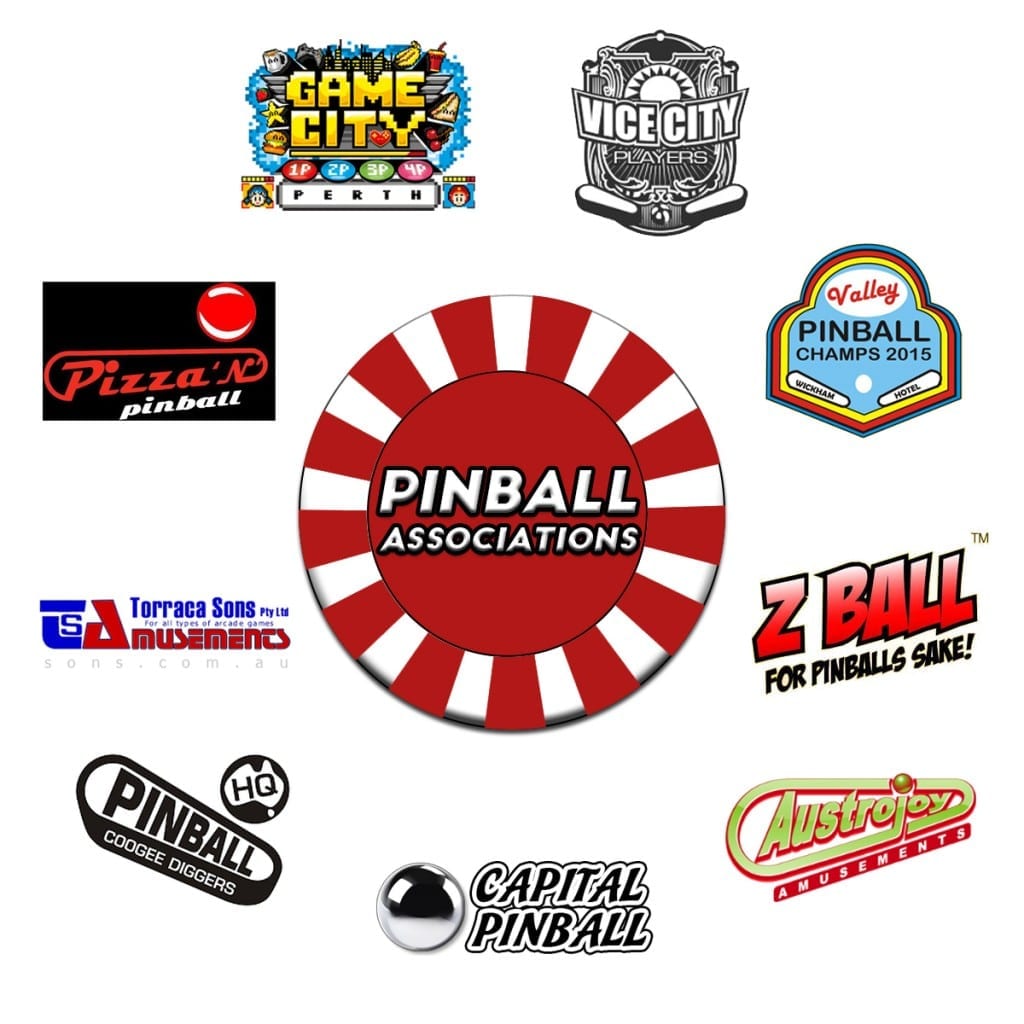 Austrojoy Pinball Club, Sydney
This group is sponsored by Austrojoy Pty. Ltd. with a website at http://www.austrojoy.com.au/.  They can also be contacted via telephone: 1300 668 889 and email at enquiries@austrojoy.com.au.  They hosted a competition at Coogee Diggers earlier this year.
Bayside Pinball Club, Melbourne
The club discloses that it is open for both competitive and non-competitive players.  Fun seekers are welcome.  Email them at baysidepinballclub@hotmail.com or connect via their facebook page here.
Cooks Hill Pinball Club
This club holds regular venue at Cooks Hill Hotel Corner of Union & Bull Street 36 Union Street, Cooks Hill NSW 3300.  If you would like to get in touch with this club you can look for Luke Phillips, the club organizer, via mobile 0414 611 870 or via his email: luke@lagames.com.au.  The club holds monthly competitions and meets with ongoing tournaments with prizes.
Capital Pinball, Canberra
Located at U3, 47-49 Vicars Street Canberra, Australian Capital Territory.  Capital Pinball is an event planner that boasts of having the largest pinball and video game party room.  They can be contacted via telephone: 0418633871.  Website is as http://www.capitalpinball.com.au.
Magic Hands Pinball
The club holds regular meeting at two venues, one is at Tollgate Hotel, 625 Church St, Parramatta NSW 2150 and at the Henson Hotel, 91 Illawarra Rd, Marrickvillle NSW 2204. You can contact the club organizer, John Pansini via email at magichandspinball@gmail.com.  The club holds fortnightly competition alternately between Tollgate Hotel and Henson Hotel; Henson Hotel on the first and third week of the month and the Tollgate Hotel on the second and fourth week of the month.
Brunswick Brawlers, Melbourne
No regular venue for meet ups.  For details on the next meet up, contact Robert Cecchini at brunswichbrawlerspinball@gmail.com
Pinball HQ, Sydney
Pinball HQ holds regular competitions at Coogee Diggers.  You can contact them by phone via +61 2 9665 4466 or through their website http://www.pinballhq.com.au.  Coogee Diggers is located at Cnr Carr and Byron Sts. Coogee, NSW.  It is free to join the club.  Regular meetings and competitions is held every Wednesday and Last Thursday of the month.  Tournaments winners are announced every month with prizes awaiting the winners.  The delegation from Pinball HQ comprising Pat Nichols, Paul Reid, and Greg MacMahon took home the cup for the Australian Pinball League Season Final 8 Competition.  Know more about the club's many activities here.
Ipswich Silver Ball Pinball Club, Ipswich
Regular venue of the club is held at Shop 601/602 Ipswich City Square 20 Nicholas Street Mall, Ipswich, Queensland 4305.  Club organizer Corey Hamilton can be reached by phone 0422 634 340.  Monthly IFPA endorsed tournaments are held.  You can email him at deadrooster2002@hotmail.com.  Connect via their Ipswich Silver Ball Pinball Club here.  The facebook group currently have 95 registered members and admins.
Torraca Sons, Sydney
Torraca Sons is an amusement company that keeps its own pinball team for competitions.  They can be found at Unit 36/5 Ponderosa Parade Warriewood NSW 2012 or by telephone or fax at 02 9997 3527, or through their contact page in their website here.  According to the dailytelegraph.com.au, "He has set up two teams of two or three players and occasionally dons the team shirt and plays in the competition himself."
Toowoomba City Pinball Club, Toowoomba
The club maintains a facebook page here. They also posted their contact number at their facebook page saying 0402 495 232 encouraging other pinball enthusiasts to send them an SMS just in case calls don't get answered immediately.   The group, just like many others were present at The Australian Timezone Supanova Pinball Championship held at the Supanova Brisbane.
Cramer's Pinball, Melbourne
Club meets at Cramer's Hotel situated at 1 Cramer Street, Preston, Victoria, Australia 3072 with Scott Kellet leading the pack. To get in touch with him, send him an email at cramers.hotel@alhgroup.com.au or dial his phone number: 03 9478 2477.  Meet up at the Sportsbar of the hotel every last Tuesday of the month excluding December.
Pizza N Pinball, Sydney
The club holds venue at 51 Belford St. Newcastle, NSW 2292.  You can contact the club organizer, Dom or Chris Slevin via phone, 024960 8022 or through their website http://www.pizzanpinball.com.  Connect through their facebook page here.  They hold monthly meetings and competitions on the last Sunday of each month.  They are the encumbent APL Seasons Finals winner.  They also join National competitions.  The pizza place currently have 13 pinball machines that club members enjoy.
Gold Coast Pinball Club, Gold Coast
The club meets at the Timezone Gold Coast, Level 1, Centro Surfers Cavill Mall Surfers Paradise, QLD 4217 every first Wednesday of the month.  Gavin Drogeuller is the club organizer and you can get a hold of him via telephone 0402 789 618.  Holds a monthly tourney called the Gold Coast Pinball Championship.  Registration for the tourney starts from 6:00 PM.
Pixel Alley, Melbourne
Pixel Alley is a bar with arcade.  Located in 95 Smith Street Fitzroy Melbourne, head over for some pinball and drinks, call 03 9416 0079 for more information. They are the first in Melbourne to release Heighway Pinball: Full Throttle!  So, if you are a fan of the game, head on over and try your skills with their latest addition.
Vice City Players, Canberra
Vice City Players prides itself of being the friendliest pinball and arcade gaming group.  The group is registered with the Australian Pinball League and the IFPA.  Composed of volunteers, they are welcome to other enthusiasts looking for some pinball fun.  Contact Andrew Zed via phone 0403 776 331 or via email at vicecityplayers@gmail.com.  Connect through their website at www.vicecityplayers.com.  The club meets in private homes.  Keep track of all group activities in the Meets/Events calendar in their website.
Houseball, Brisbane
This club is open for residents and different club members host meets all throughout the year.  Contact the club through Jack Hutchinson via telephone 0401 879 301 or by email using jackhutchinson92@gmail.com.  Cash prizes and trophy are awarded for winner which are tabulated year round of the competitions.  Contact Jack Hutchinson for the next schedule of the meet up.
The Western Wizards, Melbourne
The Western Wizards lists Commercial Hotel 111 Watton Street Werribee Victoria as their home with John Crabtree manning phone and email inquiries at 0402 526 334 and Johnny@westernwizards.com.  Club meets every 3rd Wednesday of the month.  Joining this club is like finding "A gathering of like-minded fans of the magical silver ball."
Z Ball, Sydney
The venue is at The Courthouse Hotel 202-204 Australia St. Newtown NSW.  Contact them at z@zball.com.au or via their website zball.com.au.  The group participate in the APL Season Finals and National Competitions.
Brisbane Pinball Club, Brisbane
The club meets at Club Greenslopes, 131 St. Greenslopes, 4020.  The club organizer is Jasom Lambert at 0431 259 893 with email at dj_200@hotmail.com.  Monthly meetings are held usually every 3rd Monday of the month with exceptions on December and January.  Competitions start at 6:30 PM with an entry fee of $15.  For more information check out their facebook page: www.facebook.com/groups/BrisbanePinball.
GameRoom Essentials Pinball Club, Adelaide
The address the club uses is 176-190 Yorktown Rd, Craigmore SA 5114.  Look for Danny Daly when dialing 0422 600 193 or email him at danny@gameroom.com.au for your inquiries.  The club hosts the GameRoom Essentials Annual Tilt Tournament aside from regular club meetings.  Opening up a new location soon, watch out for their new Bowland location.  Their inhouse pinball team compete against teams coming from other states and even overseas.
Valley Pinball Club, Brisbane
Their facebook page lists 308 Wickham Street, Fortitude Valley, Brisbane Australia with a contact number +61 402 603 471.  Facebook page at https://www.facebook.com/Valley-Pinball-845171252192338/.
Peacock Inn All Stars, Melbourne
The club holds regular meetings at the Peacock Inn Hotel's Peacock Inn Pinball Championship every first Monday of the month.  The Peacock Inn Hotel can be found at 210 High St. Northcote, VIC 3070.  Contact James Angliss via 0432 104 011 or email him at james.angliss@gmail.com.   The club holds regular meetings and tourneys, they even have their very own Peacock Inn Pinball Championships every first Monday of the month.
Game City Flipping, Perth
The club uses the address Shop TR2/3 Raine Square Shopping Centre 300 Murray Street Perth W. A. 6000.  To get there, via Murray Street, go down main train station smart rider gates and turn left at the tunnel.  For questions, contact Dharmesh Patel by phone, 0433 032616 or by email at pinballs@gamecity.com.au.  You can also access their website www.gamecity.com.au or connect via their facebook page www.facebook.com/gamecityperth.  The club holds monthly and weekly pinball competitions.  See if they have their Kiss Limited Edition and the classic Monster Bash pinball machines installed already.
As you can see, finding other like-minded individuals as yourself looking for some fun with your oh-so loveable pinball machines is not so hard in Australia.  Join a club or start your own group and join in the fray.  Make sure you make your games count by going after IFPA sponsored/acknowledged tournaments and rank your way up to pinball fame.